Home > Authors > Maruja Vieira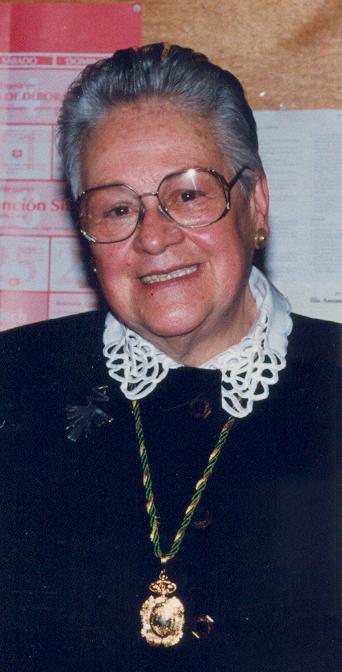 Maruja Vieira
Poet and journalist (Colombia)
Manizales, Colombia. December 25, 1922.
Academic of Language, Numerary in Colombia and Hispano Corresponding of Spanish Royal Academy. Poet, journalist and professor. Her poetry has been translated into English, French, German, Greek, Hungarian and Galician.
Poetry Books:
BELL OF RAIN. Bogotá, 1947.
THE POEMS OF JANUARY. Bogotá, 1951.
POETRY. Medellin, 1951.
WORDS OF ABSENCE. Manizales, 1953.
MINIMUM KEY. Manizales, 1965.
MY OWN WORDS. Manizales, 1986.
TIME TO LIVE. Bogotá, 1992.
BELL OF RAIN. Commemorative Edition. Manizales, 1997.
SHADOW OF LOVE. Roldanillo, 1998.
THE NAMES OF ABSENCE. Bogotá, 2006.
ALL THAT WAS MINE. Bogotá, 2008.
PUZZLE. Bogotá, 2010.
MEMORY TIME. Ibague, 2010.
ALL LOVE LOOKING FOR MY HEART. Madrid, 2012.
THE SIMPLE TRUTH THAT I LOVE YOU. Madrid, 2012.
Prose book:
POPAYAN BACKWATER CITY. Popayan, 1956.
Awards and honors:
Culture's Grand Order, Culture Ministry of Colombia.
Simon Bolivar Medal, National Education Ministry of Colombia.
Artistic Merit Honor Medal, Mayoralty of Bogotá, D.C.
Gabriela Mistral Order, Education Ministry of Chile.
Villegas Aquilino Order, Government of Caldas.
Manizales`s Cross, Mayoralty of Manizales.
Arts and Letters Award, Success Women Foundation.
Erato Award, Corporation Art and Poetry in the Street, Sabaneta, Antioquia.
The Life and Work Award, Culture Ministry of Colombia.