Home > Authors > Zoran Anchevski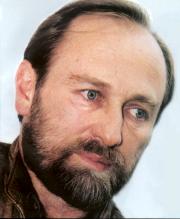 Zoran Anchevski
Poet, translator, professor of literature (Macedonia)
Zoran Anchevski graduated in English language and literature from the Faculty of Philology at Skopje University, where he currently teaches British and American literature. He received his M.A. in American literature from California State University, and Ph.D in comparative literature from Skopje University.
He has so far published the following books of poetry: Journey through Broken Images (1984), Strategy of Defeat (1994), Line(s) of High Resistance (1998), Translating the Dead (2000), Wild Peace (2004), Selected Poems (2008), History of the Wind (2009), Selected Poems (in English, 2011), and Celestial Pantomime (forthcoming). They have all been well received by the critics and highly acclaimed and awarded by various awards including the international "Giacomo Leopardi" award (2004) in Italy. He has also published a number of essays, reviews, and a book-length study in literary theory and criticism Of Tradition (2008). He is the editor and translator of several poetry anthologies in English and an anthology of contemporary short story (Change of the System, 2000). He also translated many literary works by such authors as: W. B. Yeats, T. S. Eliot, W. H. Auden, Ted Hughes, Seamus Heaney, Derek Walcott, Yehuda Amichai, John Ashbery, W. S. Merwin, Kenzaburo Oe, Toni Morison, Makoto Ooka, etc.
Selections from his poetry have been translated into Albanian, Bulgarian, Chinese, English, French, Finnish, Galician, German, Greek, Hebrew, Italian, Portuguese, Romanian, Russian, Serbo-Croat, Slovenian, Spanish, Turkish, Ukrainian, etc. and published in various magazines and anthologies at home and abroad.
Member of Macedonian Writers' Union, Literary Federation for World Peace (member of the International Advisory Board), two times secretary of Macedonian P.E.N., and former president of the Organizing Board of the renowned Struga International Poetry Festival (2002-2007).